Shifu Niall O'Floinn teaches weekly classes in Galway and special day seminars in other cities where his students teach or where invited by groups wishing to learn Tai Chi, whether they be acupuncture, shiatsu schools, active retirement groups, external martial arts clubs, mental health forums, Chinese communities, University programs etc.
Beginners classes are held in the city centre with a beautiful private area outside on the River Corrib for training on sunny days. We have bigger venues for when the Masters visit and students come from all over Ireland to attend.
Our goal is to provide a friendly atmosphere with a serious attitude to learning and helping students achieve their health and fitness goals. Over the past 15 years we have taught thousands of people Tai Chi and had a very positive influence on students becoming more healthy and aware of themselves.
Shifu O'Floinn is Director of Studies of the Galway Tai Chi Academy, Ireland's largest Chen Style Tai Chi school and centre for teacher training.
So 8 months of the year you can train with him weekly in Galway in public classes or private one on one or small groups of up to 3 people maximum. He runs seminars at the Academy also where people from other parts of Ireland can travel to attend.
He also visits other schools who are members of Chen Tai Chi Ireland and is available to travel also to your club in Ireland even if you are not yet associated with Chen Tai Chi Ireland. To book a seminar with Shifu O'Floinn, please email eimearwijnands@gmail.com with your inquiry.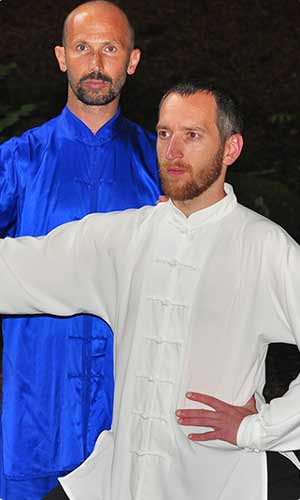 Tai Chi Classes in
Athenry
Adam Cwik - Tai Chi instructor and dedicated student of this wonderful art since 2005. Adam currently teaches classes in Athenry and Kilkenny. He studies with Shifu Niall O'Floinn and Grandmaster Wang Hai Jun - the 12th generation lineage holder.
Certified in physical therapy, structural bodywork and movement neurology, Adam is implementing knowledge of the body into his classes making them informative and in the spirit of traditional teaching. For more information and timetable, Adam can be reached at 085 7578156 or via website www.neurotao.ie
| Dates | | |
| --- | --- | --- |
| 05/09/2023 @8.00pm | Free Talk & Demo | Galway Rowing Club |
| 12/09/2023 @8.00pm | Beginners Course | Galway Rowing Club |
| Time | | |
| --- | --- | --- |
| 04/09/2023 @ 7.20pm | Improvers (10 Weeks) | Shantalla |
| 06/09/2023 @ 6.00pm | Lao Jia (Beginners) 10 Weeks | Shantalla |
Chen Tai Chi

Galway

Contact
Find out more about our classes or exactly where your nearest Chen Tai Chi class is located.
Address

Galway Rowing Club,
10 Waterside,
Woodquay,
Galway,
Co. Galway.